Beyond the Solar System: Exploring Galaxies, Black Holes, Alien Planets, and More; A History with 21 Activities (For Kids series #49) (Paperback)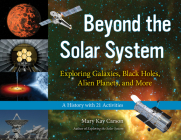 $18.95
Unavailable for purchase.
Other Books in Series
This is book number 49 in the For Kids series series.
Description
---
NSTA-CBC Outstanding Science Trade Books for Students K-12 for 2014 list
Humans have gazed into the night sky for thousands of years and wondered, What are those twinkling lights? Though the sun, moon, and planets moved across the background of stars, the stars themselves appeared immovable, forever fixed in constellations. Only when astronomers began taking a closer look did anyone realize what a fascinating, ever-changing universe lies beyond our solar system—red giant and white dwarf stars, spiral galaxies, wispy nebulae, black holes, and much more.
In Beyond the Solar System, author Mary Kay Carson traces the evolution of humankind's astronomical knowledge, from the realization that we are not at the center of the universe to recent telescopic proof of planets orbiting stars outside our solar system. In addition to its engaging history, this book contains 21 hands-on projects to further explore the subjects discussed. Readers will build a three-dimensional representation of the constellation Orion, model the warping of space-time caused by a black hole, see how the universe expands using an inflating balloon, and construct a reflecting telescope out of a makeup mirror and a magnifying glass. Beyond the Solar System also includes minibiographies of famous astronomers, a time line of major scientific discoveries, a suggested reading list, a glossary of technical terms, and a list of websites for further exploration.
About the Author
---
Mary Kay Carson has written more than 30 nonfiction books for children, including The Bat Scientists, Exploring the Solar System, and The Wright Brothers for Kids.
Praise For…
---
"A highly readable text . . . teachers may find these 21 activities especially helpful, but handy readers can follow these clear directions on their own. This is a useful path for budding space scientists."  —Kirkus Reviews

"A fast-paced, but worthwhile, tour of the history of astronomy. Carson shows unusual finesse in communicating the methods and significance of scientific breakthroughs . . . Notable for its unusually clear explanations of complex topics, this volume is a worthy companion to Exploring the Solar System." —Booklist

"A comprehensive combination of astronomical history and science, with activities that should encourage curiosity and involvement."  —Publishers Weekly

"This volume is a great reference tool for astronomy lovers. The combination of history with hands–on activities is a novel approach that would certainly entertain and engage middle school students and beyond. The photos on the glossy pages are eye-catching and the diagrams come with great explanations . . . this volume would make a great resource for a school library or the library of a budding astronomer."  —National Science Teachers Association (NSTA) Recommends

"This inviting and informative comprehensive survey will be useful for homework assignments and may send young scientists to further studies of astronomy."  —School Library Journal

"The activities are perfect 'boredom busters' for cold winter days."  —Washington Post

"The book stands out from other introductions to the field because of the activities, all of which use simple and easy-to-find materials."  —Science Magazine

"I would recommend this book to all children who have a passion for learning, not just about the night sky, but all aspects of our scientific history. The many illustrations and activities only enhance the reader's understanding of the subject matter and enable him or her to be challenged to learn more, and hopefully one day to join the ranks of the great people documented in the book."  —National Space Society

"Scientific terms and concepts are clearly explained in context, and Carson's lucid writing makes difficult-to-grasp ideas manageable. The pages are packed with colorful reproductions, crisp photos, charts and diagrams, and dazzling NASA images." —School Library Journal