Plants Fight Back (Paperback)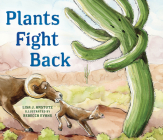 Description
---
Botany for kids! Beautiful illustrations in this nature book provide information on the clever adaptations that help plants survive.
How do you survive when danger is near and you are rooted in the ground? Plants use their defenses and fight back!
As readers turn the pages of this beautifully illustrated book, they will find fun and poetic language describing various situation where different plants find themselves under attack. This is followed by informative, science-based lessons about these plants and their survival methods. Backmatter includes a glossary and a STEM challenge activity to use at home or in the classroom.
Backmatter Includes:
Explore More for Kids: photos and information about the plants in this book.
Explore More for Teachers & Parents: Literacy and Science connections!
A perfect book for:
parents and teachers in search of homeschool supplies for kindergarten (or any grade!)
anyone looking for children's books to help instill an appreciation of our planet!
Praise For…
---
"Lighthearted but cogent fare for young naturalists and foragers. " — Kirkus Reviews

" A colorful, age-appropriate gateway to a deeper understanding of plant life." — Booklist

"Teachers and educators looking for unique material to explain plant science might want to give this title a try." — School Library Journal

"[A] great read for youngsters who enjoy scientific non-fiction, and as a text to introduce a lesson or unit on adaptations." — Youth Services Book Review