Captain Small Pig (Paperback)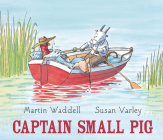 Description
---
A charming story of family and a day on the water
Out on Blue Lake with his parents Old Goat and Turkey, Small Pig is ready for an adventure. "I'm Captain Commander " Small Pig said. "Aye aye, Captain Small Pig " yawned Old Goat. "You are in charge of this boat " But Small Pig soon tires of rowing and falls asleep. Before they know it, the boat is drifting across the lake, and grumpy Turkey is in for a soaking
Martin Waddell's quirky tale, coupled with Susan Varley's evocative illustrations, makes for a gentle bedtime story filled with quiet adventure.