Room for Everyone (Hardcover)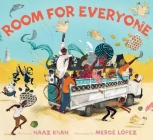 List Price: $17.99
Our Price: $17.09
(Save: $0.90 5%)
November/December 2021 Kids Indie Next List
---
"Truly stunning illustrations are on display as a crowded dala dala makes its way to the Zanzibar shore. Is there room for more? Yes!"
— Elese Stutts, Flyleaf Books, Chapel Hill, NC
Description
---
A young boy on a crowded bus discovers that, after some wiggles and giggles, there's room for everyone in this lighthearted rhyming picture book set in Zanzibar.

The dala dala rumbles and roars as Musa and Dada drive off to the shore—but the bus stops for multiple detours: "Do you need a ride? It's hotter than peppers out there in the sun! Come in, there's room for everyone!"

One stop becomes two stops which soon becomes ten, and Musa wonders when it will end: "How can any more people get in? We're already smushed like sardines in a tin!" But there's always room for one more, if you make the room, which is the heartwarming take-away from this bouncy, joyous tale in rhyme.
About the Author
---
Naaz Khan is a writer and educator with a diploma in refugee studies from the American University in Cairo, and a master of arts in international education from Columbia University. She draws inspiration from her experiences living in Saudi Arabia, Egypt, Kenya, and India, where she was born. She currently lives in Washington, DC, where she makes room for hiking, biking, working for An Open Book Foundation, interfaith gatherings, and playing her ukulele.

Mercè López has a degree in illustration at Llotja Art School in Barcelona. She has illustrated many projects for different markets from design, editorial, cinema, and theatre to publishing with Spanish and international book publishers. She recently moved to Mallorca, Spain, for a new adventure.
Praise For…
---
There's a lot of fun to be had as lyrical rhymes and mixed-media illustrations make the growing menagerie of passengers feel both vibrantly stylized and realistically depicted. East Africa is presented richly and distinctly in López's dynamic artwork, but the overall experience of riding and building community on the daladala is not only accessible, but easily familiar to much of the world in this charming story.

Khan and López take readers on a uniquely East African journey toward a global sense of compassion and inclusion.
— Kirkus Reviews, STARRED

The zippy anapestical rhymes are laced with dramatic emphasis (playfully signaled by the font) and touches of repetition as well as the entertaining cumulation. A fresh and gorgeous outing all its own, eminently suitable to get giggles from kids doing their own complaining about close quarters.
— BCCB *STARRED REVIEW*

This irrepressible story in verse by newcomer Khan is simultaneously a counting book and a study in generosity of spirit. López (I Am Smoke) brings bright color, fine draftsmanship, and communal warmth to jovially packed spreads. Even the characters' robes and the attractive chaos of the things they carry are captured with care in this affirming portrait set in East Africa.

— Publishers Weekly *STARRED REVIEW*

Based on a "fantastically fun daladala ride" that author Naaz Khan once took in Zanzibar, Room for Everyone is an entertaining and bighearted joyride of a picture book that features fabulous illustrations by Mercè López.

Musa and his sister climb aboard a daladala, a type of Tanzanian minibus, heading to the shore "to feast on fish at the Friday bazaar by the blue crystal waters of Zanzibar." The bus and Khan's pleasing prose bounce along rhythmically. The text is full of satisfying alliteration, flowing dialogue and rhyming couplets that are a delight to read aloud.

[A]s they travel along, the driver spots people in need of a ride and yells, "It's hotter than peppers out there in the sun! Come in, there's room for everyone!"…. By the time the daladala finally reaches the shore, it's packed with people, fish, chickens, large kitenge umbrellas, coconuts, a team of scuba divers and much more. López's delicate, fine-lined drawings are expressive and dynamic, filled with movement and momentum.
— BookPage *STARRED*

*"Young Musa and his sister hop aboard the daladala that will drive them from town to the Zanzibar shore. The vehicle is already crowded; nevertheless, when the driver sees an elderly man walking his bike, he stops. "It's hotter than peppers out there in the sun! / Come in, there's room for everyone!" offers the driver, which becomes the text's lively and welcoming refrain. As more and more people—and goods and livestock and milk pails and open umbrellas and stinky fish—board the daladala, Musa expresses his dismay: "'But, Dada,' said Musa, 'can there really be / enough room for a cycle, two goats, and me?'" His sister reminds him—and without a hint of didacticism—that there's always room for another person in need (yes, even scuba-diving tourists). Khan's rhymes are electric, her wordplay flawless, and her sound effects entertaining to say aloud. López's (Lion of the Sky, rev. 3/19) marvelous illustrations, in acrylic, ink, graphite, and digital media, employ a multitude of patterns and textures, hustling and bustling right along with the constant, colorful activity."
— The Horn Book, starred review