Julian Lennon White Feather Flier 3-Book Box Set (Julian Lennon's Children's Adventures) (Hardcover)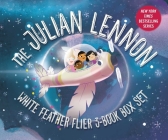 $35.00
Unavailable for purchase.
Description
---
A handsome box set, three beautiful children's picture books, from New York Times Bestselling author, Grammy-Nominated Singer/Songwriter, Philanthropist, and Photographer, Julian Lennon.
Jump aboard the
White Feather Flier
, a magical plane that can go anywhere on Earth! In this three-book set, Julian Lennon's books immerse children into interactive and unique journeys where they will meet the
White Feather Flier
.
The
Flier
's mission is to transport readers around the world, to engage them in helping to save the environment, and to teach one and all to love our planet. Just press a button printed on the page and use your Imagination Power to make the Flier glide through the air or transform into vehicles that will help those in need.
This set includes three handsome story books:
Touch the Earth
Heal the Earth
Love the Earth
These inspiring, lyrical stories are rooted in Lennon's life and work and are filled with beautiful illustrations that bring the faraway world closer to young children. The books each include a special poem written by Julian Lennon to fit each story.
A portion of the proceeds from book sales will go to support the environmental and humanitarian efforts of the White Feather Foundation, the global environmental and humanitarian organization that Lennon founded to promote education, health, conservation, and the protection of indigenous culture.
About the Author
---
Julian Lennon is a Grammy-nominated singer-songwriter, photographer, documentarian, and philanthropist. Born in Liverpool, England, Lennon is an observer of life in all its forms developing his personal expression through his artistic endeavors. In 2007, Lennon founded the global environmental and humanitarian organization The White Feather Foundation, whose key initiatives are education, health, conservation, and the protection of indigenous culture.

Bart Davis is an international bestselling author of novels and nonfiction books. His most recent is Black and White: The Way I See It, the biography of Richard Williams, father of tennis champions Venus and Serena Williams. He has also written two feature films and a wide range of print articles. Davis lives in New York City.

Smiljana Coh is an artist who studied film animation and combines traditional and digital illustration techniques in her work. She has illustrated the picture book I Want to Be a Ballerina and wrote and illustrated The Seven Princesses. She lives in Croatia.