Typewriters: Iconic Machines from the Golden Age of Mechanical Writing (Writers Books, Gifts for Writers, Old-School Typewriters) (Hardcover)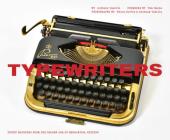 List Price: $40.00
Our Price: $38.00
(Save: $2.00 5%)
Description
---
From the creation of the QWERTY keyboard to the world's first portable typing machine, this handsome collection is a visual homage to the golden age of the typewriter. From the world's first commercially successful typewriter—the Sholes & Glidden Type Writer of 1874—to the iconic electric models of the 1960s, eighty vintage devices are profiled in elegant photographs and fascinating text that highlights the design modifications, intricate details, and peculiar quirks that make each typewriter unique. From functional advances like noiseless machines to luxurious details such as mahogany covers and inlaid mother-of-pearl, a century of design innovation and experimentation is charted in these pages. Packed with visuals and rich with history, Typewriters is the essential story of a writing invention that changed the world.
About the Author
---
Bruce Curtis is a photographer, visual historian, and author. He lives on Long Island, New York.

Anthony Casillo is a vintage typewriter expert and collector. He lives on Long Island, New York.

Tom Hanks is an actor, filmmaker, and typewriter collector. He lives in Los Angeles, California.
Praise For…
---
"Whether you're a writer or a collector who loves the vintage character of an old typewriter, you'll appreciate Anthony Casillo's Typewriters: Iconic Machines from the Golden Age of Mechanical Writing, a 208-page, 11 x 9-inch book that pays homage to the golden age of the typewriter. From the first typewriter in 1874 to the iconic electric models of the 1960s, full-color photos and descriptions throughout celebrate the intricate details and historical impact of this machine." —Romantic Homes Magazine

"Whether you're a writer or a collector who loves the vintage character of an old typewriter, you'll appreciate Anthony Casillo's Typewriters: Iconic Machines from the Golden Age of Mechanical Writing, a 208-page, 11 x 9-inch book that pays homage to the golden age of the typewriter. From the first typewriter in 1874 to the iconic electric models of the 1960s, full-color photos and descriptions throughout celebrate the intricate details and historical impact of this machine." —Romantic Homes Magazine

"A love letter to vintage typewriters." —Wall Street Journal

"A love letter to vintage typewriters." —Wall Street Journal

"In Typewriters: Iconic Machines from the Golden Age of Mechanical Writing, typewriter expert and collector Anthony Casillo presents a visual homage to the device that revolutionized correspondence." —The Florida Times-Union

"In Typewriters: Iconic Machines from the Golden Age of Mechanical Writing, typewriter expert and collector Anthony Casillo presents a visual homage to the device that revolutionized correspondence." —The Florida Times-Union

"Sure to delight typewriter lovers and those interested in machine or design history." —Library Journal

"Sure to delight typewriter lovers and those interested in machine or design history." —Library Journal