The Stills: A Novel (The Kinship Series #3) (CD-Audio)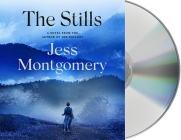 $52.99
Unavailable for purchase.
Other Books in Series
This is book number 3 in the The Kinship Series series.
Description
---
With compassion and insight, Jess Montgomery weaves a gripping mystery and portrait of community in The Stills, the powerful third novel in the Kinship series.

Ohio, 1927: Moonshining is a way of life in rural Bronwyn County, and even the otherwise upstanding Sheriff Lily Ross has been known to turn a blind eye when it comes to stills in the area. But when thirteen-year-old Jebediah Ranklin almost dies after drinking tainted moonshine, Lily knows that someone has gone too far, and—with the help of organizer and moonshiner Marvena Whitcomb—is determined to find out who.

But then, Lily's nemesis, the businessman George Vogel, reappears in town with his new wife, Fiona. Along with them is also her former brother-in-law Luther Ross, now an agent for the newly formed Bureau of Prohibition. To Lily, it seems too much of a coincidence that they should arrive now.

As fall turns to winter, a blizzard closes in. Lily starts to peel back the layers of deception shrouding the town of Kinship, but soon she discovers that many around her seem to be betraying those they hold dear—and that Fiona too may have an agenda of her own.

A Macmillan Audio production from Minotaur Books

About the Author
---
JESS MONTGOMERY writes a Writer's Digest magazine column, "Level Up Your Writing (Life)" and was formerly the "Literary Life" columnist for the Dayton Daily News. Based on early chapters of the first book in the Kinship Series, The Widows, Jess was awarded an Ohio Arts Council individual artist's grant for literary arts and named the John E. Nance Writer-in-Residence at Thurber House in Columbus. She also hosts the podcast, "Tea with Jess: Chatting with Authors & Artists." Jess lives in her native state of Ohio.

Susan Bennett is known for her radio and television voiceover work. She has narrated a host of audiobooks, including those from bestselling authors Peggy Post, Linda Francis Lee, Dorothea Benton Frank, Emma McLaughlin, and Nicola Kraus. Her reading of Tiger, Tiger by Margaux Fragoso won an AudioFile Earphones Award. In describing Susan's reading style, Publishers Weekly has said, "Bennett's narration is excellent: she draws the listener into the story... keeping the pacing brisk and entertaining." Susan also dabbles in the music industry as the singer and keyboardist for The Interactive! Band. Along with her guitarist husband, Rick Hinkle, Bennett is the co-owner of Audiocam Music, a full service recording studio.