The Bat Scientists (Scientists in the Field) (Paperback)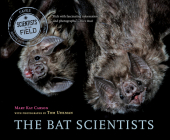 $9.99
Unavailable for purchase.
Description
---
"Rich with fascinating information and photographs."—Horn Book

Dr. Merlin Tuttle is fascinated by bats, with good reason. Bats fly the night skies the world over, but are the least studied of all mammals. As the major predator of night-flying insects, bats eat many pests. But bats are facing many problems, including a scary new disease. White-nose syndrome is killing millions of bats in North America. Dr. Tuttle and his fellow bat scientists are on the front line of the fight to save their beloved bats. Find more about this series at www.sciencemeetsadventure.com.
About the Author
---
Mary Kay Carson and Tom Uhlman are the author and photographer of numerous Scientists in the Field books for Clarion Books, including Emi and the Rhino Scientist, The Bat Scientists, Park Scientists, Inside Biosphere 2, and Mission to Pluto. They live in Cincinnati, Ohio, with their dog, Ziggy, and their cat, Shamu. You can visit them online at marykaycarson.com and tomuhlmanphoto.com. 
Praise For…
---
"Whether describing the physics of echolocation or the present crisis of white-nose syndrome, Carson encourages readers to rethink stereotypes about creatures once scorned as flying vermin and shows how intricately their survival is tied to our own."—Booklist, starred review 

"A strong scientific look at a unique and often unloved mammal and the scientists who happily investigate them"—School Library Journal

Praise for Emi and the Rhino Scientist A Bank Street College of Education Best Children's Book of the Year
A Parent's Choice Award Winner in Non-Fiction
A Booklist Top 10 Sci-Tech Books for Youth 2008A Booklist Top 10 Books on the Enviroment for Youth 2008
A Junior Library Guild Selection
* "Top-notch nonfiction…A captivating telescopic view of a unique animal."—Booklist, starred review * "The emphasis on reproductive science and zoo work both make this an unusual addition to the admirable Scientists in the Field series, one that should be welcome in high-school as well as middle-school libraries."—Kirkus, starred review "Through lively prose and stunning full-color photographs, readers learn how Terri Roth, an expert in endangered-species reproduction, helped Emi to give birth to the first Sumatran rhino born in captivity in more than 100 years...Like many of the entries in this popular series, Emi is an engaging and informative."—School Library Journal
—