Japan (Follow Me Around) (Paperback)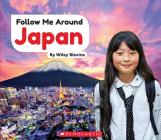 $7.95
Unavailable for purchase.
Description
---
An Asian nation of more than 3,000 islands, Japan is about the same size as the U.S. state of California.
Go on an in-depth tour of Japan with local guide Satchiko as she shows readers what life is like in her home country, from what foods people enjoy to how they spend their free time. Satchiko will also teach readers about Japanese history and culture, show them the country's most interesting places, and more.