Japan (Follow Me Around) (Follow Me Around...) (Hardcover)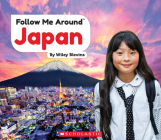 $40.50
Unavailable for purchase.
Description
---
An Asian nation of more than 3,000 islands, Japan is about the same size as the U.S. state of California.Go on an in-depth tour of Japan with local guide Satchiko as she shows readers what life is like in her home country, from what foods people enjoy to how they spend their free time. Satchiko will also teach readers about Japanese history and culture, show them the country's most interesting places, and more.
About the Author
---
Wiley Blevins has taught elementary school both in the United States and South America. He completed his undergraduate work in Elementary Education at Bowling Green State University and his graduate work in Education at Harvard University. Currently Editorial Specialist for Early Reading at Scholastic, Inc., Blevins is the author of several books on phonics instruction, including Phonemic Awareness Activities for Early Reading Success, Quick-and-Easy Learning Games: Phonics, and Phonics from A to Z: A Practical Guide.